KYKLO SOM: The Easiest and Fastest Way
To Grow Your Digital Sales and Engagement
Plug & Play e-commerce platform with product catalogs for electrical and automation distributors.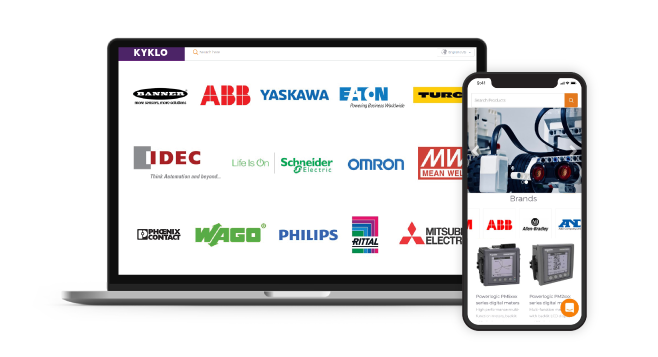 Enriched Product Content
5,000,000+ Automation, Electrical and Pneumatic SKUs carefully enriched with the right technical content.
The most "findable" contents on the web, with better Google results. (I.E. You can find "sensor inductive 3mm PNP output M18 thread" more easily).
The best SEO-optimized content in the market.
Over 10,000 new parts are created each week by a team of specialized automation, mechanical and electrical product engineers, with decades of accumulated experience.
B2B E-commerce Platform
Native B2B features: multi-level discounts.
Net pricing, RFQ, cross-referencing, selector, etc.
ERP integration.
Easily understood business and web analytics.
Completely mobile device friendly.
01 A fully customizable
online shop.

KYKLO can provide you with a fully functional web store with your company branding, logos and your product offering. Delivered and operational in a few weeks. No technical skills are required on your end. Instead you focus on your core strengths - building customer relationships and growing sales.

Benefit For Your Business

The simplest, most effective and advanced route to the ever expanding e-commerce market.

02 Your products and their specifications are ready to sell.

Content is the key to online business. Most distributors believe they can turn to their manufacturers/vendors for good content, but the results are surprisingly dismal. The truth is most manufacturers do not have files containing the right product descriptions, proper pictures or other sales ready information. With KYKLO your products and their specifications are internet ready and user friendly. The distributor simply selects the products they stock from our extensive database.

Benefit For Your Business

A well-tested and continuously maintained online shop with the right content. We have you covered.

03 An online service to manage your business.

KYKLO's B2B web store is more than just a customer shopping experience. We provide additional tools to allow the distributors to better manage their business. Tools included in the package allow you to review orders. customer activity, pricing and quotation - all at no extra cost.

Benefit For Your Business

The first sales "back office" designed specifically for distributors.
What Distributors Say About Us.

"People want what Amazon's doing, and there's no denying that. And so the more that we can offer that experience as a small distributor, the more valuable we are.

I think this is the future. Because the hardest thing to do is to keep up with the data. And the data is changing rapidly. And this platform gives us that tool."

-Scott Heiling

President, Heitek Automation
Add/Remove/Move Brands
Add/Remove/Move Brands