The 4 benefits of digitization in B2B E-commerce for distributors
August 24, 2017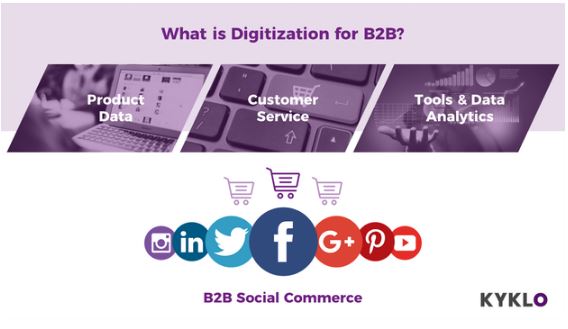 At the moment; It seems that B2B e-commerce is the new frontier. You would probably hear it from the news. It's going to be big, so everyone says, but what are actually the benefits of digitization? By starting in your e-commerce journey; You also start to digitize your information at the same time. So what is digitization? In my case; it is the action of bringing your paper documents or offline documents into the digital era.
From a Distributor's point of view the one common pain is: You have a lot of stock, but your customers do not know what you have to sell.
The first benefit of Digitization is getting your products information out to your customers, by replacing your paper catalogue. This also open doors to a whole different world of "online". Meaning that your product information can be distributed much more efficiently and effectively through the web.
The 2nd benefit is the improvement in your customer service. Digitization of your customer data, such as order history and order status can substantially increase your customer's satisfaction. A good example of this is the introduction of online parcel tracking by your friendly post office. Before the introduction of the online tracking, we used to be in the dark on when our parcel woukd arrive. Gone are the days of waiting in the dark, thanks to this digitization.
The 3rd Benefit is data. That's right, for all you math geeks out there, data is the gift of digitization. Digitization of your product information, customer order, stock etc. can generate new insights into you business. As the analytic geeks would call it "data is a goldmine". In-depth analysis of your data can unlock huge potential for you and your business such as stock planning, customer order behaviour or even your sales staff's performance.
Last but not least, Social commerce. Social media has been around for more than a decade. It is getting to the point where people who were in school when Facebook started are now people with an income, which means that there is huge potential and maybe the untapped market you have been searching for. Digitizing your data is now more important than ever. Social media can help spread your message and product data far and wide. According to google 65% of B2B purchaser use social media in making their purchase decision. Social commerce can open you to new unthought opportunities.
Digitization truly brings you many benefits, but accomplishing the digitization requires buy-in and commitment from both you and your team. Be clear on your objective setting and execution will be your key to success.