Who are the B2B operators in the electro-mechanical industry?
August 30, 2016
Electro-mechanical industry appears to be one of the most traditional and "offline" industries in the world. You can get very few quality information when you google it, and even less news as regards its business operators.  Let's cast some light on the main players of this industry.  They are electricians, industrial maintenance engineers, professional electrical material retail shops, DIY (Do-It-Yourself) companies, wholesalers, manufacturers, distributors, importers, OEMs, panel builders, system integrators, contractors, consultants and finally design engineers.  Most of these works sounds unfamiliar to the majority of people. Hence, it is time to narrow down the focus on what these job functions exactly mean.
How do these electro-mechanical key players generally work?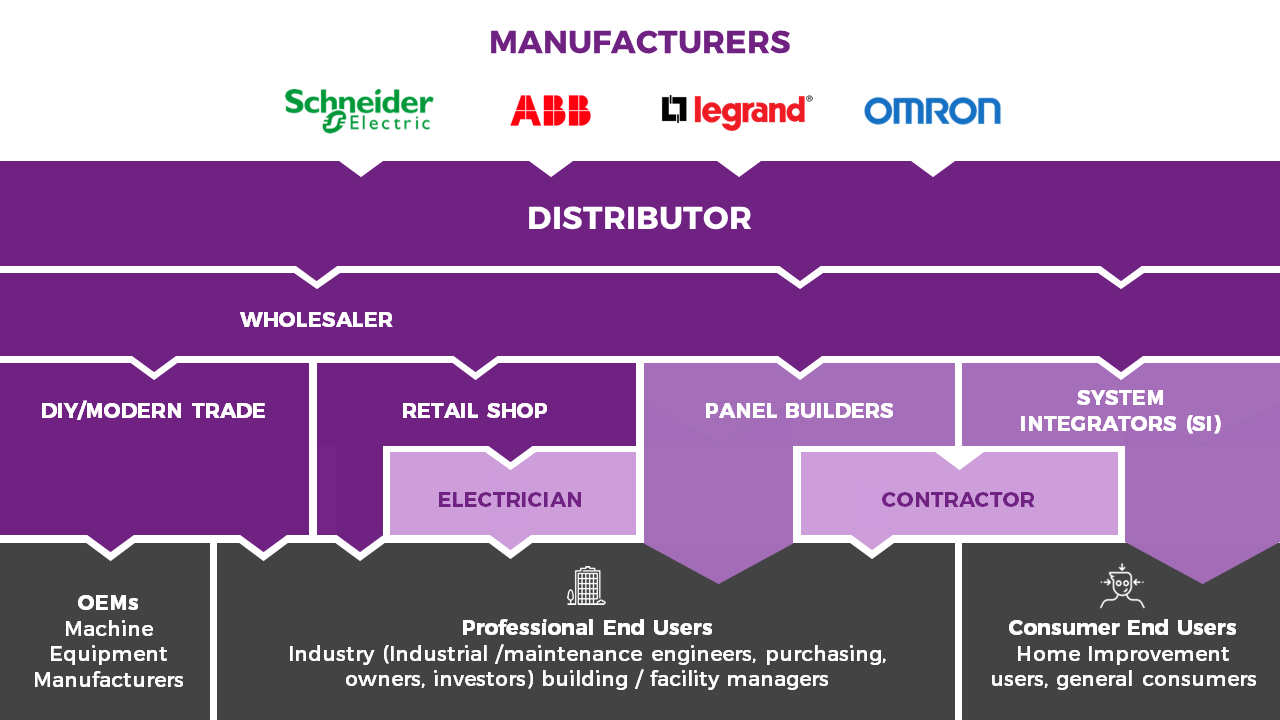 Electricians
: they usually do small electrical installation works on site; they could be sole traders or small companies, up to five employees in total.
Industrial maintenance engineers
: they are employed with larger companies in different business sectors, from a local jeans factory, to the petrochemical processing plant of a multinational corporation. They are in charge of securing the industrial installations, in particular of assuring that they run securely and efficiently, with minimal down-time (i.e. the time when the system is not properly working).
Professional electrical material retail shops
: this category comprises both the small street-corner shops selling a few water pumps and light bulbs, and the larger professional shops selling a broader range of electrical systems and components. They both supply electricians and small end-users with the electro-mechanical components they need, plus a hands-on explanation and quick availability.
DIY companies
: Do-it-Yourself firms are large retail surfaces selling straight to final consumers (then, not to professional customers), sometimes to electricians too. You have surely heard about the largest representatives of this sector: Leroy Merlin, Kingfisher, Obi, Home Pro, and so forth. DIY operators are also B2B buyers, as they generally directly buy from wholesalers, distributors, and manufacturers.
Wholesalers
: they facilitate business among manufacturers, their distributors and smaller retail shops, by providing better credit terms, smaller minimum order quantities, and promotional campaigns to animate a large network of very diffuse small retailers.
Manufacturers
: they are at the very origin of all this process. Their core business is to manufacture and sell their products exclusively to very large corporate customers, such as distributors, certain panel builders and system integrators.
Distributors
: they are the counterpart of manufacturers in any country of the world. They are up to several tasks: they provide availability of products, give technical advice to medium-large customers, organise regional availability via local warehousing, and so on.
Importers
: they are a specific type of distributors, which operate in a country where the manufacturer has still not set its operations up. Importers act on behalf of manufacturers, usually until the manufacturer reaches a satisfying and sufficient business volume in that determined country, thus it can finally settle its own operations locally.
OEMs
: they are a very particular type of customers, in the sense they do not re-sell as is the electro-mechanical products they have bought. On the contrary, they integrate the electro-mechanical components in a broader system, usually a machinery.
Panel builders
: from a certain point of view, they are almost similar to OEMs. Their characteristic is to be dedicated to the manufacture of electrical panels (also called panelboards, switchgears, switchboards, or load centers, depending on where you live). Panel builders rarely, if ever, resell products as is, but rather focus on selling systems. They basically produce systems for providing electrical power to rural villages, power plants, factories, malls, and whatever building needs electricity.
System integrators
: they share some common characteristics with panel builders, as their business consists in putting together electrical hardware and software. Their purpose is to deliver integrated systems for controlling anything you want, from an airport traffic control system, to a pet food producing factory.
Contractors
: they usually produce complete ensembles, from bridges to airports and power plants. Their work process is based on the integration of electro-mechanic components and systems coming from the above mentioned players.
Consultants
: they do not directly buy electro-mechanical products or systems, but advise end-users, investors, and industry operators concerning feasibility assessments of the ensemble, forecasted project executions, and industrial applications of electro-mechanical components.
Design engineers
: their principal task is to design the shape of the electrical ensembles, by offering a conceptual, detailed, and functional design for electro-mechanical components.