Plug & Play E-commerce Platform for Electrical & Automation Distributors
Monitor, manage your business, sell your products, engage with your customers and differentiate your company in a tiered distribution environment.
KYKLO NAMED A 2019 "COOL VENDOR" IN DIGITAL COMMERCE BY GARTNER

"Vendors Selected for the Cool Vendor Report Are Interesting, New and Innovative

The webstore and content provider, today announced that it has been named a "Cool Vendor" based on the May 17, 2019 report titled, Cool Vendors in Digital Commerce by Gartner, Inc."
The Fastest Way to Digitize Your Business Sales Operations
Plug & Play e-commerce platform with product catalogs for electrical and automation distributors.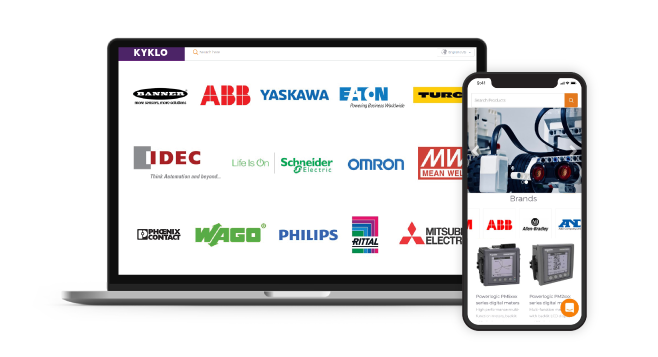 Enriched Product Content
1,200,000+ Automation, Electrical and Pneumatic SKUs carefully enriched with the right technical content.
The most "findable" contents on the web, with better Google results. (I.E. You can find "sensor inductive 3mm PNP output M18 thread" more easily).
The best SEO-optimized content in the market.
Over 10,000 new parts are created each week by a team of specialized automation, mechanical and electrical product engineers, with decades of cumulated experience.
B2B E-commerce Platform
Native B2B features: multi-level discounts.
Net pricing, RFQ, cross-referencing, selector, etc.
ERP integration.
Easily understood business and web analytics.
Completely mobile device friendly.
Promote your products
Create and deploy your own flagship page into your distributors store.
The three main benefits of a Flagship page are: - Increase your brand awareness and get featured in your distributor's online stores. - Go omnichannel and align your online messaging between your corporate sites and your distributor's sites. - Reduce the time to market by launching new products in just a few seconds.
Thanks to our central PIM ( product information management) system and Flagship feature, your marketing team can manage Flagship pages and content to be deployed to your authorized distributors. You can customize each Flagship page to make it specific per distributor, industry, and audience. Contact us today to learn more.
Publish your product data instantly
Leveraging on KYKLO enriched content products library, deploy and promote your products in a click.
- We deploy your data to your distributors with no effort from your side, except providing a price list. KYKLO finds the catalogs, and do the rest. - Our data matches or surpasses manufacturer's data quality and usability because our team are not only data specialists, they are product specialists (PLCs, breakers, industrial controls). We industrialize creation of data from catalogs, manufacturers website and partners making our data is superior.
Business Intelligence
Define commercial plans with your channel partners and monitor their execution leveraging on Business Analytics
- Obtaining consolidated geographical and product segment sales data from distributors, with no effort and in complete confidentiality. (Where agreed with your distributor, otherwise KYKLO keeps data as secret as the Coke recipe.)
Our Featured Brands
Our comprehensive product library consists of product information from all your top brands.
What Distributors Say About Us.

"KYKLO has exactly what I wanted.

We are all looking for ways to improve our business and our bottom line. We have tried a lot of things but have not tried different things.

Regarding E-commerce, Electrical Wholesalers have been around for a long time. The danger is, as they are getting better and better at it, we will lose tractions and customers possibly. So, we need to catch up."

-Neil Montgomery

President, Davis Controls Ltd,.

Read More
Trusted by Leading Distributor Associations